Many jobs require the usual 9-to-5 routine holed up in an office space or a cubicle. Then there are those jobs that require some nerve and a sense of daring to complete -- and that is all in a day's work!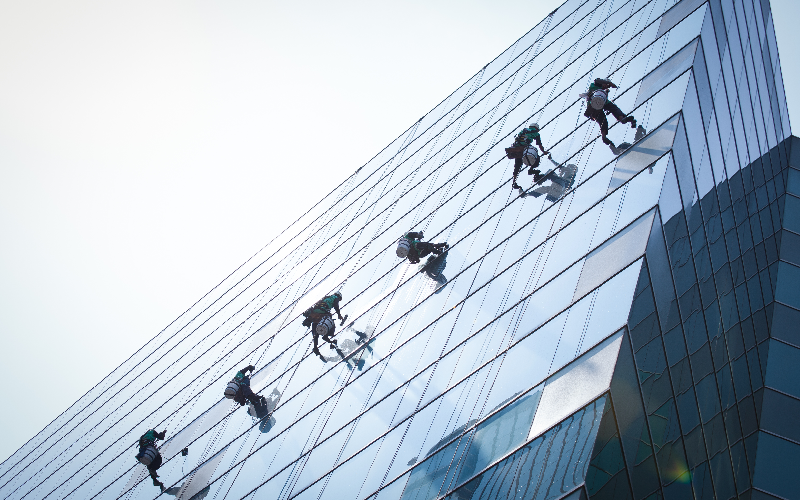 If you have ever wondered which jobs sound particularly spooky or chill-inducing, then we have you covered. Here is a list of just some of the scariest-sounding jobs that require special people and special guts:
Funeral Director
Perhaps nothing sounds spookier other than a job that requires one to work on the dead, but nonetheless, it is an important one. When a loved one passes away, a memorial services manager arranges funeral services, from the wake to the internment. They also manage other tasks such as filing important documents including death certificates and burial permits with the proper authorities.
Why this job matters: Saying goodbye to a loved one who has passed on is never easy. A Funeral Director helps families through their grief, offering assistance and guidance during one of the most important yet difficult moments in their life.
Steeplejack or High-rise Window Cleaner
Do you have a fear of heights? Then you may want to cross off steeplejack or high-rise window cleaner off your list. A steeplejack is tasked to carry out inspections, constructions, safety, and maintenance checks on high-rise buildings and towers. This role demands bravery, alongside a special set of technical skills, including technical expertise, an eye for detail, and adequate physical fitness.
Why this job matters: Cities around the world are filled with towers and skyscrapers, from offices, hotels, and residences, to churches and heritage sites. Steeplejacks and window cleaners are in charge of keeping these structures well-maintained, ensuring their beauty, preserving architectural heritage, and most importantly, providing safety for everyone.
Sewage Water Treatment Plant Operator
Many of us can hardly fathom the horror of having to stick our hands in toilet water -- now imagine doing this in an entire treatment plant where all the waste lands. A sewage or wastewater treatment plant operator is in charge of maintaining the treatment processes and equipment in a sewage water plant.
When wastewater arrives at the plant, an operator ensures that it is properly treated, removing chemicals, debris, and organisms before the water is returned to the environment. Recycled water may even be treated for human consumption, or for other purposes such as water irrigation.
Why this job matters: While a treatment plant operator may not sound like the most glamorous job in the world, they do secure one of the most basic utilities: water. A plant operator makes sure that a treatment plant runs optimally so that communities continue to access safe and clean water, without fail.
Explosive Ordnance Disposal (EOD) Technician
If you have seen movies or television shows such asLondon Has Fallenor24, dismantling a bomb is certainly not for the faint of heart. In real life, however, while the work of bomb technicians is absolutely crucial for public safety, EOD Technicians hardly handle a bomb or a dangerous device up close, unless it is absolutely necessary. An important role in law enforcement, specialists require rigorous training and serious analytical skills that will enable them to dismantle a bomb or neutralise a threat without getting close.
Why this job matters: The job of an EOD Technician may sound frightening, and does call for sharp analytical skills, in addition to staying calm under pressure. This dangerous job ensures that the public remains safe and protected from any security threat.
Epidemiologist
An epidemiologist is a scientist and public health professional who studies diseases among populations, such as outbreaks and other threats. They are tasked with identifying novel diseases that have not been previously encountered, such as COVID-19 or SARS, and study formerly extinct illnesses that have made a comeback. After collecting and analysing research and data, epidemiologists can help shape public health initiatives in order to contain the spread of these diseases among communities.
Why this job matters: While dealing with unknown illnesses can cause some fright, this is a job that is nonetheless vital to the world's survival and well-being. An epidemiologist's work is especially timely in the midst of COVID-19. As new viruses continue to emerge, an epidemiologist helps us to understand these health threats so we may deal with them proactively, and ultimately maintain the health and safety of the public.
No matter how scary these may sound to the uninitiated, these are all #JobsThatMatter. Every single role contributes to our lives, whether we realise it or not. While they may not be popular occupational choices, there are individuals who find purpose, fulfillment, and satisfaction in these dignified jobs.
At JobsDB, we believe in bringing you #JobsThatMatter. As a Career Partner, we are committed to helping all jobseekers find passion and purpose in every career choice. And as the number 1 Talent Partner in Asia, we connect employers with the right candidates who truly make a positive and lasting impact on the organization.

Discover Jobs That Matter. Visit JobsDB today.
About SEEK Asia
SEEK Asia, a combination of two leading brands JobStreet and JobsDB, is the leading job portal and Asia's preferred destination for candidates and hirers. SEEK Asia's presence span across 7 countries namely Hong Kong, Indonesia, Malaysia, Singapore, Thailand, Philippines and Vietnam. SEEK Asia is part of the Australian Securities Exchange-listed SEEK Limited Company, the world's largest job portal by market capitalization. SEEK Asia attracts over 400 million visits a year.
About SEEK Limited
SEEK is a diverse group of companies, comprising a strong portfolio of online employment, educational, commercial and volunteer businesses. SEEK has a global presence (including Australia, New Zealand, China, Hong Kong, South-East Asia, Brazil and Mexico), with exposure to over 2.9 billion people and approximately 27 per cent of global GDP. SEEK makes a positive contribution to people's lives on a global scale. SEEK is listed on the Australian Securities Exchange, where it is a top 100 company and has been listed in the Top 20 Most Innovative Companies by Forbes.