As the world recovers from the effects of the coronavirus pandemic, businesses are beginning to reopen alongside the easing of mobility restrictions. According to CNN, Thailand's economy shrank by 12% amid the loss of tourists and stalled economic activity.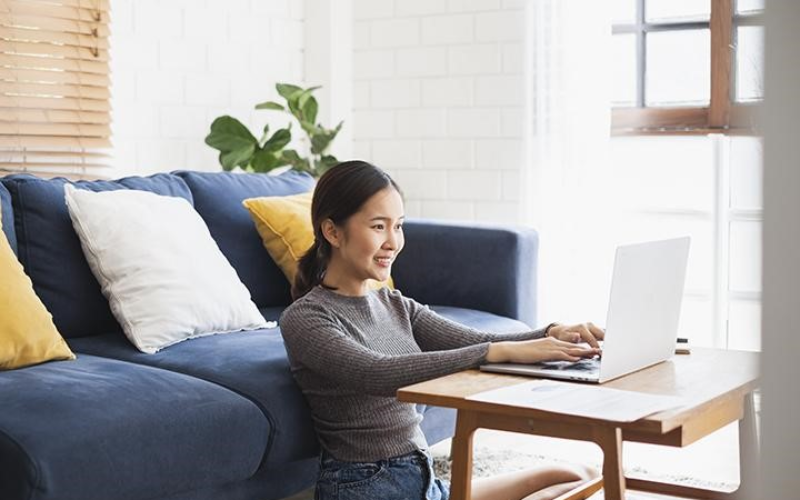 With the rest of the globe on the path to economic recovery, various workplaces in different regions continue to work remotely. It is the same case for Thailand, where companies have chosen to implement a work-from-home (WFH) system to further mitigate transmission and minimise exposure among their employees.
Work-from-home jobs have quickly become the norm, with 48% of Thai employees now required to work from their homes, according to the most recent jobsDB Thailand Report.
This trend is most common among large companies with over 500 employees at 54%, and workplaces in the advertising/marketing/public relations sector at a whopping 68%. Elsewhere, 51% of full-time workers and those with higher-paying salaries are also likely to be working from home.
While working from home clearly has benefits such as preventing the risk of exposure to the virus, the shift from a traditional office environment does have its effects especially in terms of working behaviour. Employees now find themselves working longer hours, with 48% saying that they work until evenings and on weekends.
With home and office boundaries now blurred, this can quickly lead to a loss of work-life balance. Losing that balance may result in a decline in job satisfaction and burnout. As we adjust to working in the new normal, here are tips on how to keep your work and personal lives separate at home.
Discuss your needs with family members and those that live with you.
While shifting to a work-from-home setup, it is important to first discuss your needs and expectations with your family members or roommates. Be clear in establishing boundaries with them: if you have already appointed a workspace in your home, let them know if you prefer not to be disturbed while you are at your desk.
It is also important to let them know your schedule, so they know not to interrupt while you are on a work-related call, or to assign household errands during your time of work.
Before, following a conventional 9-to-5 office routine was simpler: you knew when to clock in and clock out, as well as lunch hours and coffee breaks. Overtime hours were scheduled and not as frequent. With a work-from-home scheme, however, it may be hard to mentally "clock out" of work; conversely, home duties may distract you from your responsibilities at work.
Resolve this by establishing and committing to a daily working routine. If you are used to working within office hours, follow the same schedule as you would in a regular office, including lunch and work breaks. Dress sharply or wear your work uniform to condition your mind to be at your best while working. Giving yourself a sense of routine and habit may increase focus and productivity.
Work smarter, not harder.
Those used to a traditional office setup may feel that working from home decreases productivity, whether among themselves or among staff that they manage. This leads to the habit of working overtime, overcompensating by extending into evenings or even during weekends.
This is an unhealthy practice that disturbs work-life balance. Instead, go easy on yourself and on your teammates -- agree on common working hours if needed, and schedule virtual breaks in between to catch up and relieve yourselves from work-related stress.
To maintain productivity and efficiency even while working remotely, rely on apps such as Slack and Google Calendar to keep everyone in sync with timetables and deadlines, and to monitor their tasks.
Create your own workspace.
If there is an available room in your home, convert that into your own personal office to better help you get into the work mindset the minute you step in. If not, free up space in an area to set up a workstation.
Get rid of clutter and other distractions within the environment. Working in a common area such as the living room? Consider gadgets such as noise-canceling headphones, or tools such as standing desks that help increase productivity.
For many workplaces, working from home is a new arrangement that everyone is learning to cope with, including managers and employers. If there are any specific pain points or challenges at work while at home, discuss these openly with your HR so they can best address these issues and support their employees especially during this time.
As Thailand and the world strive to get back on their feet, we must adapt to new practices in coping with the new normal. Hence, maintaining a work-life balance is crucial in leading happy and healthy lives and relationships at home.
Need more tips for reducing work stress? Incorporate these three stress reduction strategies into your routine.
For more expert advice on how to manage the challenges of living and working during the pandemic, visit the COVID-19 Career Resources Hub.