Get ahead of the competition by mastering all the awesome features of the jobsDB Recruitment Center.
New user
1. Quick tips
Need help navigating the Recruitment Centre? Click on the 'Quick tips' button on the upper right corner of the homepage to access some useful tips about using RC.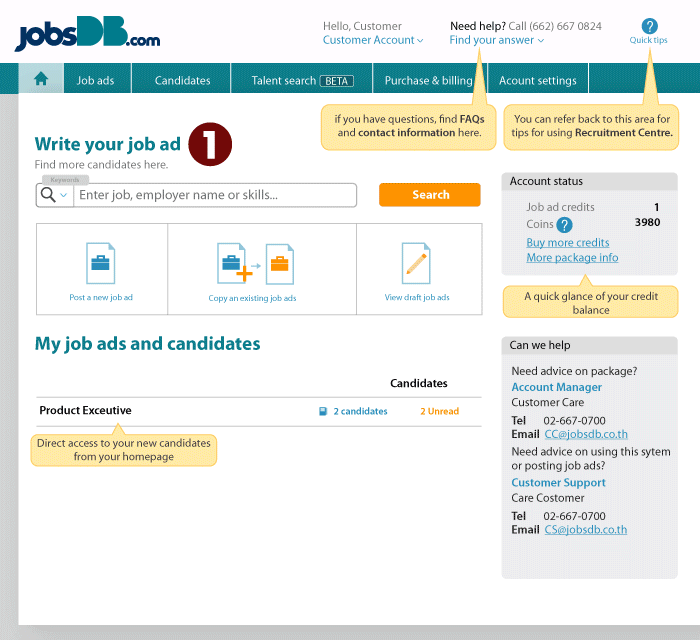 Posting an ad
2. Summary Points
When posting a job ad, don't forget to highlight the most important points of your job ad and attract candidates to read further by filling out 'Summary Points'.
Top Tip:What to write under summary points? Feature a combination of the following: minimum education or years of experience required, salary and perks, development opportunities as well as the number of openings available for the same position.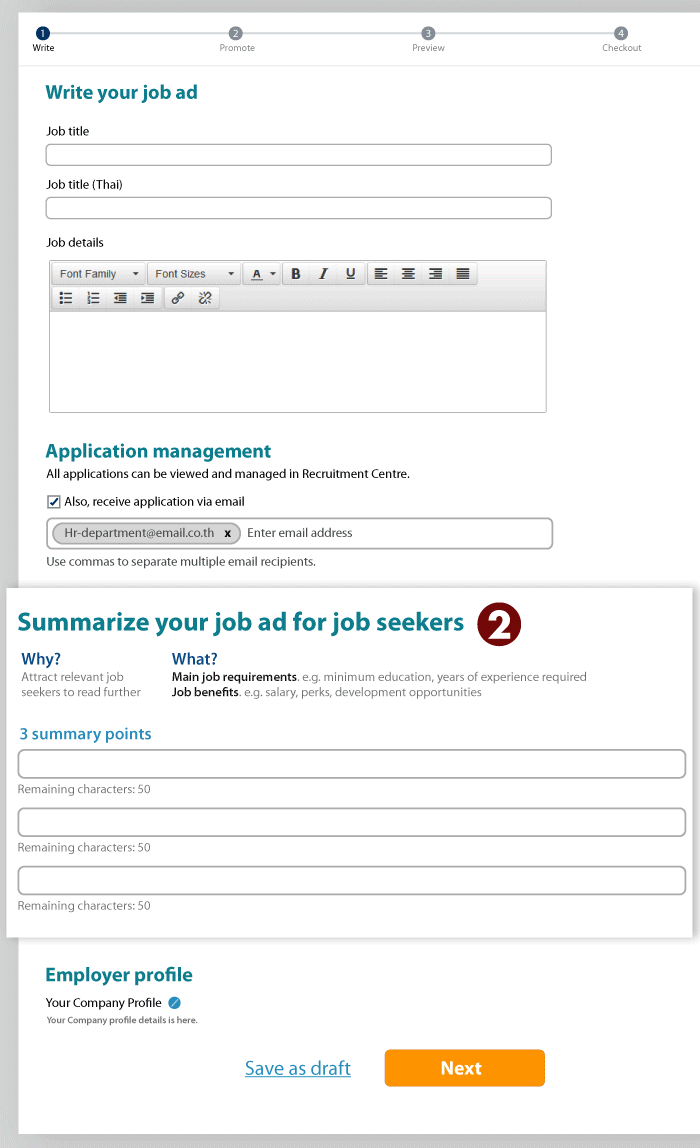 3. Add scheduled posts
Keep your ads fresh and stay on top of the search results by scheduling your job ad for reposting. You can schedule your job ads for bi-weekly, weekly or even daily reposting. Your previous job ad will be deactivated when the job ad is reposted and you are charged one credit for every reposting.

4. Assign a label
Are you hiring for multiple positions in your company? Get rid of all the clutter involved in sorting through job ads and candidates by assigning a label for each ad you post.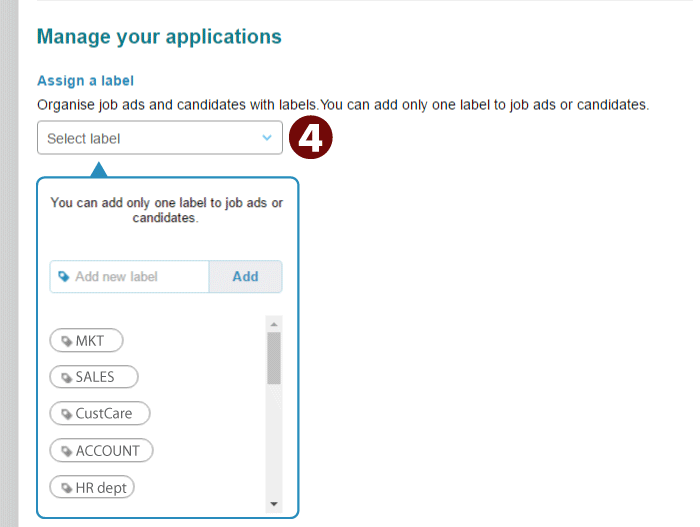 5. Filter applications
Get only the most relevant applications on your RC account and filter out those that don't meet the criteria by setting a filter for your ads. There are two criteria available under 'Filter application' – one is 'Candidates allowed to work in' and the other is 'Candidates with a minimum education level of'.
Did you know?Applications that do not meet the criteria you have set under filters will automatically be tagged as 'Not suitable'. If you want to view the applications that have been filtered out, go to 'Candidates' tab and then click on the 'Not suitable'.

6. Write optional questions for applicants
Ask applicants up to two 'Yes' or 'No' questions to help you decide whether you should 'Shortlist' the candidate or tag him or her as 'Not Suitable'.  Some of the questions you can ask candidates include the following: 'Do you have Linux certification?' (for IT position) or 'Are you willing to travel for work?'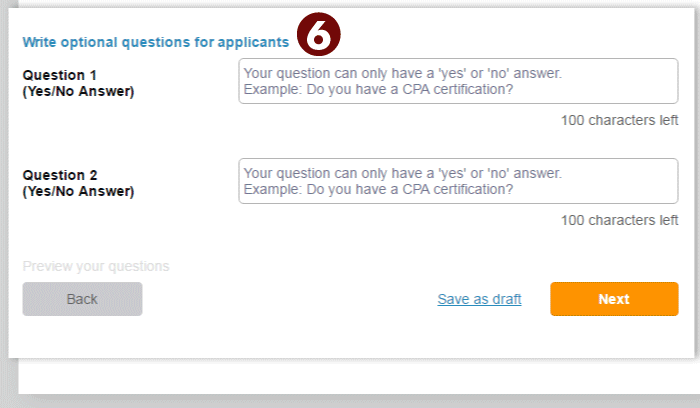 7. Copy existing/previous job ad
If you are advertising openings that have been posted on jobsDB before, then you can simply copy the job ad and post it as a new ad.
Top Tip:You can also edit an old job ad before posting it as a new ad. This makes it easier for hirers to update various things on the ad like the job description, salary details, employment terms etc.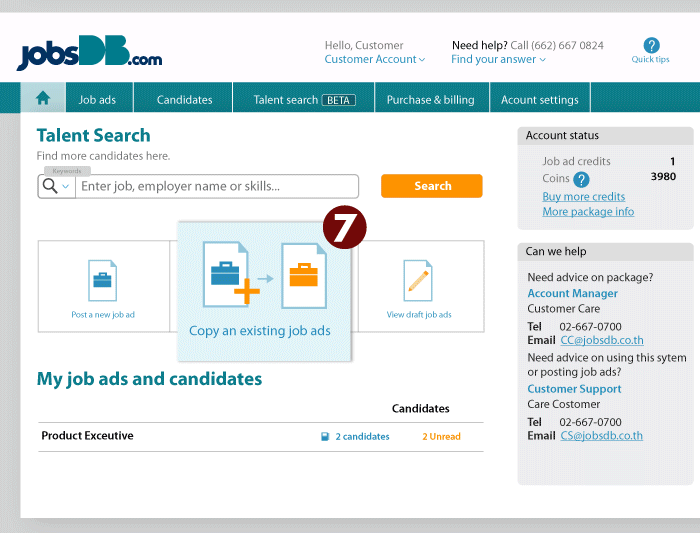 Processing Candidates
8. Filter
Review the application and profile of a specific group of applicants by using the filter function. You can filter applications based on criteria like candidate source (applied directly, purchased profile through Talent Search or sent job ad) latest job function, total years of experience and a lot more.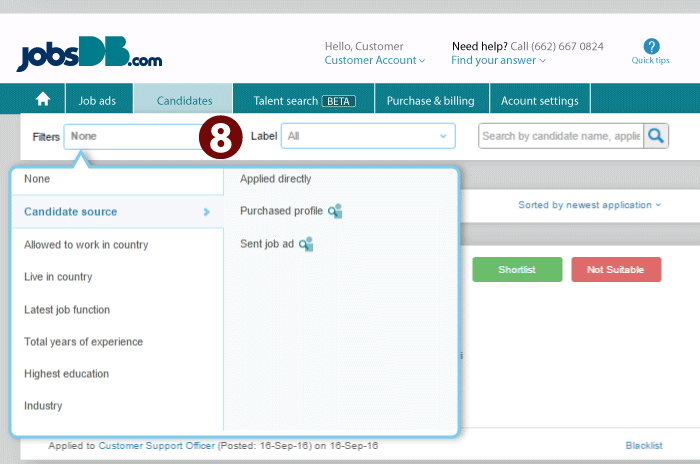 9. Shortlist / Not Suitable
There's no need to manually process candidates as all the features you need are already on RC including the ability to 'Shortlist' candidates or mark them as 'Not Suitable'. By tagging the candidate under 'Shortlist' or 'Not Suitable' the candidate application is removed under 'Unprocessed' and is stored under its respective tab.
Did you know?When you 'Shortlist' or tag a candidate as 'Not Suitable' on RC, an email is sent informing the candidate of his or her application status.

10. Blacklist
Okay, so when we said 'Seven Features You Should Use More Often' we were not specifically referring to this one. But if a candidate constantly applies on your job ads without responding to your interview invites, then you can blacklist the candidate to remove his or her ability to apply to your vacancies.
Warning:This is a definitely a feature that you shouldn't use unless it is really necessary.
Managing Your Account
11. Account users
Add more users to your jobsDB account by simply clicking 'Invite users'. jobsDB allows you to add as many users as you'd want to which is perfect for companies with multiple recruiters in their Human Resource team.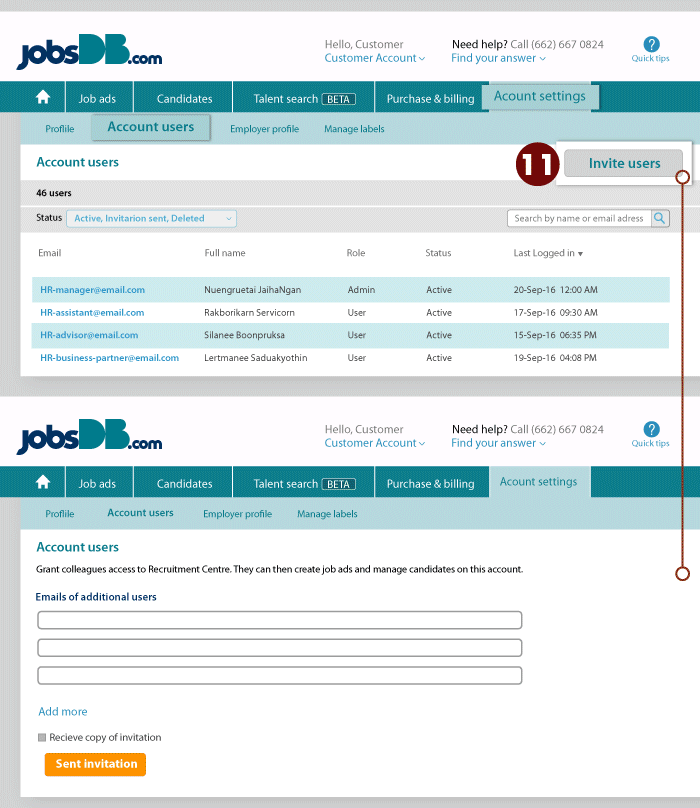 Related Articles
Maximize Your Hiring Potential with the New and Improved jobsDB Job Ads