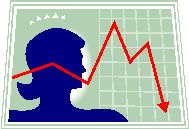 If you want to have an effective hiring campaign, you have to think long term. When hiring new employees, it can be difficult to consider how they will benefit your organization for the long haul. Fortunately, there are a variety of ways to make sure you pick the right employees who will stay with your company. The following are instructions on how to prevent quick employee turn-around.
Don't hire out of desperation.Do not just hire an employee because you needed someone to fill the position yesterday. That is what temporary employees are for. If you are looking for someone to fill the position long term, it is best to take some time to do your research. Gather as much information as you can about a job applicant. Information you would need is contact information for personal and business references, a list of past and present employers, social security number, birth date and more. These items will help you complete reference checks and to perform background checks to find out about any past criminal activity. Call on a reference. You are never too busy for that.
Offer skill testing.If you want to decrease employee turn-around, you can perform skill tests on your job applicants. You can either do this directly through your human resource department or you can contract this responsibility out to a job placement agency. This is one of the tools that will help you determine whether you have found the best fit for each position your company has open. Not only that, but it also cuts down on your new applicant recruitment costs. Every company has some form of testing or verification. Have a competition with it or an incentive.
Pay competitive.If you've gone through the trouble of finding great candidates, you want to make sure you can persuade them to come on board and have them stay. Money is not the number one reason people come to a company or leave a company.
Show appreciation.Many employees almost always know when they are doing a job wrong. However, these same employees very rarely ever hear from their employers when they are doing their job right. Encourage your employees by saying kind words to them, and telling how much of a good job they are doing. If you do that, they will be more likely to accept any words of advice on how to improve their work later on.
Level the workload.Employees often leave companies because they feel overworked. It's frequently less expensive to hire an additional person, even part-time, than it is to replace a seasoned staff member. Often we complain about an individual's performance but no action is taken. That hurts existing employee morale as well.
Hold regular review sessions.When employees are closely attached to their management team, they are more likely to feel involved. More involved employees tend to perform at a higher level and are more likely to achieve longer tenure. Talk to your employees. Keep them informed of new policies and procedures. Don't keep secrets. An informed and educated employee is much more effective.
Source : http://www.wikihow.com/