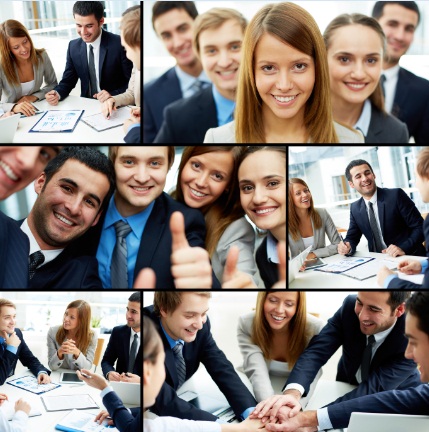 Communication is the single most important tool global professionals possess. Competence has to blend with compassion if any person is to build his bridge of communication with others. It doesn't matter how enthusiastic you are or how passionately you care. If you can't communicate that, you might as well not be there!
Real communication has nothing to do with hierarchy or organizational charts. It is not about how quickly you can send messages across the globe via computer networks. It's not about facts and figures presented in meetings and conferences. It's about heart-to-heart, open dialogue. Creating dialogue is the key to unlock the communication bridges.
The professional in the Global Village believes in getting out of his office and moving around the workplace. He doesn't wait for people to come and see him. He goes and talks to the employees even without appointments. He takes them by surprise and talks about their work. In this way, he finds out more about what is happening in the company, and how people are reacting, than by sitting in his office with the door closed.
Words are important elements of oral communication. They enable us to receive knowledge and information from sources outside ourselves. It makes us think about what we know and it helps us communicate to others our beliefs, opinions, sentiments and experiences.
Words used determine what we receive, how we think, and the accuracy with which we communicate these thoughts and feelings. In oral communication, meanings are relayed or affected by the way we say the words, by the tone of our voice, and by our body movements. Yet, the words themselves must mean the same thing to the listener that they do to the speaker if we want to achieve effective and accurate communication. You will find below specific situations encountered in the workplace with suggested positive words that produce positive results.
The Use of Positive Words with Positive Results
1. Accepting an Appointment
» I promise to make you happy and proud that you have chosen me.
» I pledge to you my loyalty, skill, fortitude, and dedication.
» I am eager to get to work and work with you.
» Let us begin to work together
» Please join me in acknowledging my predecessor, (name).
2. Awards and Tributes
» I am so excited to accept this award.
» I never thought it possible to feel so good standing in front of so many people.
» I am happy to be here tonight.
» You are kind beyond words.
» Now I really do feel as if I've accomplished something!
3. Business Meetings
» Here are the issues, as I understand them.
» I am going to begin with by giving three problems, which I want us to solve before we leave here today.
» I want to establish some definitions and directions, then throw the meeting open to discussion.
» I am always thrilled to meet with all of you.
» I'm not sure what you are expecting but I promise you an exciting meeting.
4. Community Meetings
» I have an offer to make to each and every one of you.
» Let us work together to find a solution to our problem.
» This much is clear and the choices are ours to make.
» Let us look at the issues and the possible answers.
» I have a promise to make to you.
5. Congratulations
» You are a pleasure to work with.
» Your presence has been an inspiration to all of us.
» I know I speak for everyone here when I extend our congratulations and thanks for a great job.
» I want to say that achievements like these are not a daily occurrence, but you have made them seem almost a routine.
» It is exciting to anticipate your next achievement.
6. Inaugurals
» I know that I speak for all of us when I express full confidence in our new chairman's ability to lead this organization to new heights.
» Over the years, we have come to expect great things from the man we have just elected as Chairman of the Board.
» We expect nothing less than a 100 percent commitment from you, and, in return, you will have our 100 percent cooperation.
» When I speak of giving our Department Head our full support, I mean pulling together with him toward our common goals.
» Join me in welcoming our new employees to a great office vital to us all.
7. Invocations
» Bless this meeting convened in good will for the benefit of those who serve.
» Give us the strength to overcome the obstacles we shall surely meet, and the wisdom to make good use of the opportunities we shall surely find.
» Give us the strength to sustain us in the challenging work that lies ahead.
» Help us to serve our community, our industry, and our clients with integrity, ingenuity, and responsibility.
» We ask you to bless this meeting and give us the wisdom to make the many difficult decisions that are necessary.
8. Introductions
» What a thrill to introduce a person I have worked with and admired for many years now.
» Please join me in warmly welcoming one of the most influential thinkers in our profession.
» People are always talking about our new President, so we thought it is high time that he had an opportunity to talk before us.
» When the subject of the accounting profession comes up, so does the name of our Chief Executive for Operations.
» I'm not shy about telling you that our General Manager is my idol.
9. Officers' Annual Reports
» Allow me to point out the highlight of some very important statistics.
» I bring you the significant changes from the front lines.
» There are certain trends that are important to all of us.
» I will take a few moments to explore these figures with you.
» I find a great deal to be encouraged by this year-end report.
10. Sales Meetings and Business Presentations
» I am going to ask you to tell me how I can serve you.
» I am proud to offer this opportunity.
» Isn't it about time you treated yourself to something special?
» Isn't it about time you had some relief?
» You have a wide variety of options open to you.
The Use of Power-Packed Praises in the Workplace
» You did a lot of work today! You're doing a great job! That's right!
» That's the way! Now you're doing fine.
» That's great. Outstanding! Tremendous! Right on!
» Good work! Good job! Excellent! Fantastic! Terrific! Awesome!
» That's the best you've ever done! Good going! Keep it up! Wow!
» That's really nice! Much better! Good thinking! Exactly right! Super!
» Nice going! I've never seen anyone do it better! You're getting better everyday!
» Wonderful! I knew you could do it! Keep working on it, you're getting better.
» You're doing it beautifully! You're really working hard today.
» That's the way to do it! Keep on trying! That's it!
» You are very good at that! You are learning fast! I'm very proud of you!
» You certainly did well today! I'm happy to see you working like that!
» Be proud of the way you worked today! That's the right way to do it!
» You are really learning a lot! That's better than ever! Marvelous!
» That kind of work makes me happy! Now you've figured it out!
» Perfect! Fine! That's it! You figured that out fast!
» You remembered! You're really improving! I think you've got it now!
» I like that! Now that's what I call a fine job! You did that very well!
In the Global Village, every person is special. Thus, it is our responsibility to make them feel special! In our workplaces, each one has the ability to achieve something important, and with that in mind, we need to let them know they are appreciated. These power-packed praises will make others feel important, loved, and cared for. The workplace is where the compulsive search for a communication bridge, common purpose, and a sense of friendship can find a special place. It is where a continuous sense of continued education can take place, and where self-esteem gives us the ability to express ourselves, and to contribute selflessly to a greater good.
If you are interested to list your product or service here, please contact [email protected]